When you watch more than thirty college basketball games for one team during a season, most of which were blowouts of ridiculous proportions, you inevitably start to focus on some weird details- the types of rituals players have at the free throw line, how much certain coaches and staff members sweat during games, and trying to decode plays certain finger symbols denote are historically popular ones for me. This year I am all about the tattoos. This is one tatted-up group of kids, I'll tell you what. Every game there's more and more ink to spot. It's been a battle just to keep up with everything. Here are some of my favorites.
The most interesting case study of tattoo evolution has come from Memphis's arguably best player, Chris Douglas-Roberts. While he sported plenty of ink coming into the season, he made some very visable additions this year.
His first in-your-face tattoo was this little number on his neck.
Who is Judy? I'm not sure we'll ever know. All I know is that unless it's his mama or his grandmother, I'll be pretty enthusiastic about watching him in the pros for years to come, waiting for the day I see a close-up of him on TV with a big black bar slapped across his neck.
A few weeks ago, CDR emerged with this new piece.
I'm not sure what this is. A chapter from the Old Testament? A benevolent witch's spell written on parchment paper? Now when he's at the free throw line he methodically bends his knees and touches the tattoo a few times with his left hand, a move also executed by former Tiger Steve Ballard in the early 90's (while it's doubtful that CDR is directly mimicking this move, it's a fun nostalgia trip for those of us who remember it from before). I suppose that this is a superstition or luck thing; he's deriving a bit of strength and skill from the words that are permanently etched all the way down his right bicep, whatever they may be. Coincidentally (or not), the entire team's free throw shooting is improving massively in the tournament.
Robert Dozier got an interesting new tattoo on his upper left bicep: a simple outline of the state of Georgia, with the words "Georgia Boy" scrolled above and below it. You can kind of see it here.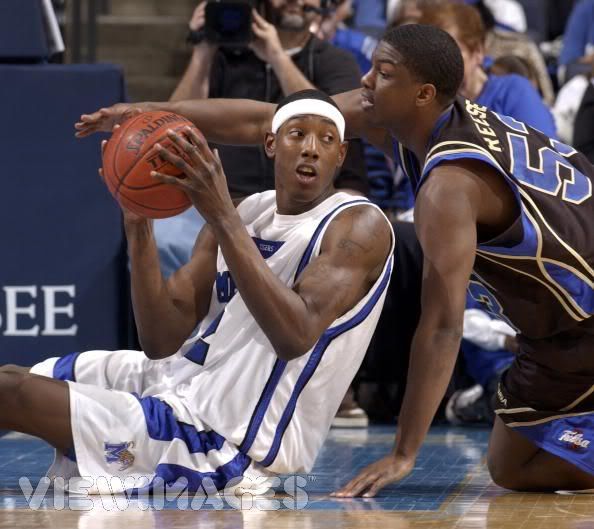 Despite its relative simplicity, I think this is my favorite of all the Tigers' tattoos. I am a big fan of state tattoos; Dozier's is clean, simple, and to the point.
Who would have thought Pierre Niles, famous nationwide for
slapping a rowdy UAB fan dressed as Larry The Cable Guy across the face
, to be a religious man? He has the prototypical set of praying hands on the inside of his left forearm, as well as the word "SON" going down his right arm, and "GOD" going down his left. The letters are extremely puffy and a little odd, and look slightly like cruller doughnuts- and if you're not focusing hard enough the GOD looks a bit like GOO. I'm not sure exactly what Pierre is trying to convey with this tattoo statement. Is he a big fan of Jesus, or does he think he's the second coming? All I know is that I better not knock a guy as big as Pierre too hard, especially since he's also got the words "North" and "Memphis" tattooed across the backs of his arms. Whoop that trick, indeed.
Shawn Taggart, aka the most underrated Tiger, in my humble opinion, is one of those kids who seems to well be on his way to sporting a billion tattoos that are seemingly unrelated to each other and don't create a cohesive theme. Nonetheless, they're fun to look at.
Check out the fist clutching wads of money, the very tired tribal flames, and the 301 on his hand (hometown area code?). He also has a name tattooed on his neck; you can't see it here, but it begins with an "N". Naomi? Nana?
Curiously, Memphis's allegedly biggest and scariest thug, Joey Dorsey, has no visible tattoos that I can see. I'm anxiously awaiting a sweet right arm piece with the words
"make it rain", accompanied by an entire sleeve of money showering from the top of his shoulder.
And finally, no discussion of Memphis' 2007-2008 team tattoos is complete without mentioning Derrick Rose, the quietly imposing freshman phenom who has been the missing piece of the puzzle this year for our Tigers. Derrick Rose is terrified enough of needles that he refused stitches for a pretty nasty cut he received over his eye a couple of games ago, but he apparently had no fear of getting lots of work done this year, most noticeably this monstrosity etched on his arm for all eternity: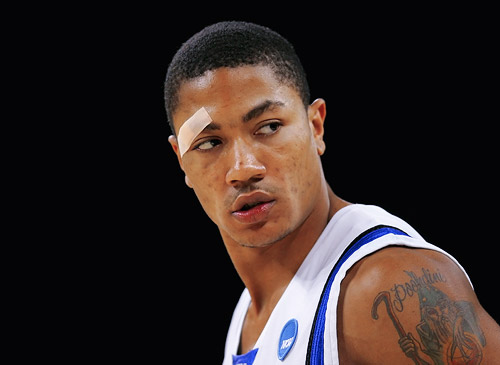 With that, all I've got left to say is: Go Tigers. Thanks for beating so many of your opponents so handily that I had the time to give a shit about your tattoos.